Experience the Magic of Caricature Art FOR Corporate Events, Birthdays, and More!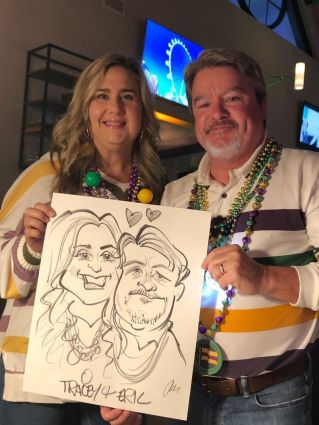 We are thrilled to introduce the official website of talented caricature artist, Jim McCloskey, providing funny, yet, flattering renditions that have delighted and entertained countless people at conventions, tradeshows, promotions, class reunions, private parties and more. Jim also draws commissioned caricatures from photos for birthdays, holidays and special occasions.
Whether you're planning a wedding, private party, corporate event, birthday celebration, retirement party, special occasion, or anniversary, this website is your gateway to a world of artistic fun. Located on the captivating Gulf Coast, serving Mississippi, Louisiana, and Florida, Jim is prepared to travel to your desired venue or even offer remote services for you.
Browse the diverse portfolio of captivating caricatures, capturing the unique essence of individuals with skill and creativity. With a user-friendly interface and easy booking process, McCloskey Caricatures & Cartoons will ensure a seamless experience, making it effortless to reserve Jim to bring laughter and joy to your upcoming party or event.
Explore the website, browse through the artist's impressive work, and embark on an unforgettable artistic journey that will leave a lasting impression on your guests.